13th Annual Marine Open House
Come down Saturday, March 26th   9am-4pm rain or shine for our 13th Annual open house. Guest speaker Ish Monroe will be doing a seminar on his frog fishing technique at 10:30am. After the seminar we will be serving a BBQ lunch by Redneck Heaven. To satisfy all you tackle junkies we'll have several vendors with tons of new tackle on hand. We hope to see you there!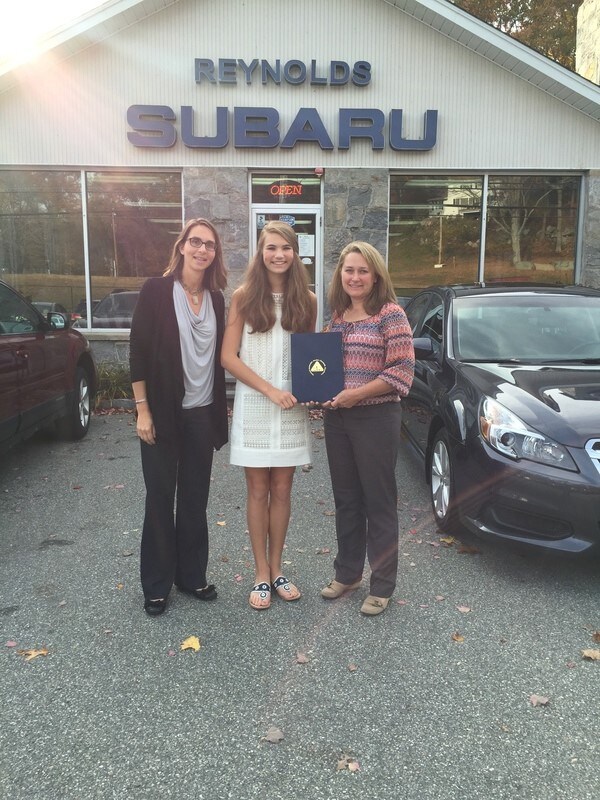 Caroline's Miracle Foundation: Peace, Kindness, Smiles
Laura Lee Wayland, part of the seventh generation of the Reynolds family presented her first NADA Ambassador Grant of $2,000 to Caroline's Miracle Foundation this past fall. This non-profit organization created in honor of Caroline O'Brien brings smiles to children and their families facing battles with brain tumors. Mrs. O'Brien works diligently to locate and assist families with whatever is needed or wanted to put a smile on their children's face, as they battle childhood cancer. Mrs. O'Brien commented that the ray of light from above that day was Caroline smiling down on us. If you are looking for a caring cause to assist financially or with your gift of time please call the foundation at 860-434-2246 or miracles@CarolinesMiracleFoundation.org.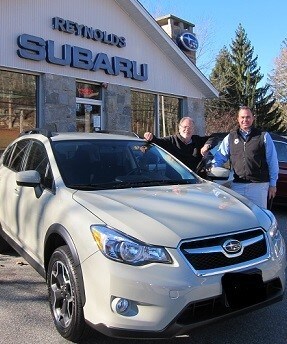 Galloping with High Hopes
Last November Reynolds' Garage and Marine Inc. partnered with High Hopes in a new way to Share the Love. High Hopes was celebrating five years of their successful holiday market that showcases handmade horse gift items, family entertainment and hayrides. To celebrate five years and to raise additional funds, they offered raffle prizes, the grand prize being a Subaru Crosstrek from Reynolds' Subaru. The event was extremely successful for High Hopes, the Shoreline Soup Kitchen and for the Subaru Crosstrek winner Chip Dahlke. The Reynolds family and staff of Reynolds' Subaru is proud to support local charities in our backyard and will keep sharing the love with High Hopes in 2016.
Reynolds' Boats Northern Tournament Trail
We are very excited to announce that this year we have partnered with the Northern Bass Opens to form the Reynolds' Boats Northern Bass Tournaments. The trail will consist of 9 events and will cover four states. There will be 4 open events that will consist of up to 100 teams with a guaranteed 1st place prize of $2,000. There will also be 4 trail events that will consist of up to 60 teams. We will be paying down to 12th place in cash and thanks to our great sponsors we will have many giveaway prizes at every event.  All of these tournaments will qualify for Skeeter Real Money, Ranger Cup, and Reynolds' Money contingency prizes. By fishing these tournaments and our Reynolds' Customer Appreciation Tournament, teams can qualify for the Tournament of Champions where they will be competing for a fully rigged Ranger Z175 with a Yamaha outboard.  Check ReynoldsBoats.com for full rules, information and event applications.
Save the Date for our 6th Annual Pet Adoption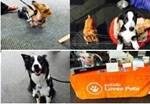 Please join us Saturday, April 9th rain or shine for our Sixth Annual Pet Adoption! We are helping foster parents, animal shelters, and animal recues adopt as many animals as possible to their forever home! "Approximately 7.6 million companion animals enter animal shelters nationwide every year. Of those, approximately 3.9 million are dogs and 3.4 million are cats. Each year, approximately 2.7 million animals are euthanized (1.2 million dogs and 1.4 million cats)" (ASPCA, 2016). Please help us make a difference by either spreading the word about the adoption or mentioning it to rescues in your area that we are hosting this event and welcome any volunteers/rescuers/foster parents. Free food, refreshments, and a raffle to win prizes donated from nearby establishments will be available. Please join us on our mission to help animals in need! We hope to see you there!
Yamaha Promotions
Come in now: purchase an eligible, new Yamaha Outboard and have the choice of either a 5 year warranty protection OR up to $1500 in dealer credit. This offer expires March 31, 2016 so hurry in to get this exclusive offer.
Skeeter and Ranger Rebate
Thinking  about a new boat? Skeeter and Ranger are both now offering a rebate up to $1500 on a brand new boat! Offer expires March 31st! Contact Bryan Liebenthal for questions at Bryan@ReynoldsBoats.com
Attn: Boaters did you know we purchase used boats and outboards? Give us a call to schedule an appraisal and get cash for your boat at 860-434-0028!
World Fishing and Outdoor Expo
Rockland Community College, 145 College Rd, Suffern, NY 10901 on March 10th-13th. Times are as follows: Thursday 2pm-9pm, Friday 1pm-9pm, Saturday 9:30am-7pm, and Sunday 9:30am-5pm.