The 2021 Subaru Love Promise Customer and Community Commitment Award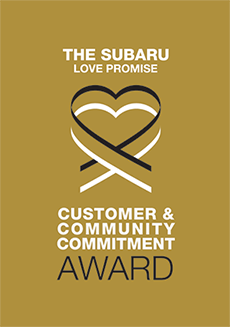 We've been nationally recognized for our dedication to our customers, our community, and the Subaru Love Promise.
We're honored to receive the 2021 Subaru Love Promise Customer and Community Commitment Award. This award nationally recognizes elite Subaru retailers who provide an exceptional customer experience at every interaction with Subaru. These retailers have also demonstrated an outstanding commitment to supporting passions and causes in their local communities in important areas such as the environment, community, health, education, and pets.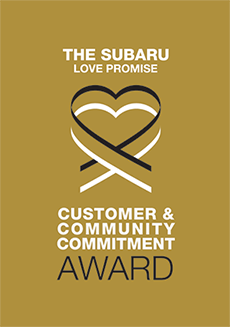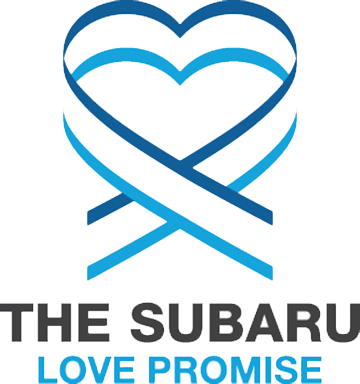 What is the Subaru Love Promise?
Subaru and our retailers believe in making the world a better place and the Subaru Love Promise is our vision of respecting all people. This is our commitment to show love and respect to our customers and to work to make a positive impact in the world.
How is Reynolds' Subaru dedicated locally to the Love Promise?
At Reynolds' Garage & Marine, our allegiance to the community began over 150 years ago on Hamburg Cove in Lyme, CT. For six generations, the Reynolds family has always felt it was their duty to support these organizations. Our Love Promise continues to grow with dedication and commitment to the Shore Line Community by building lifelong relationships with local nonprofits and charities, many of whom are friends and customers. Big enough to serve you. Small enough to know you.
Pet adoption , Lyme Horse Trials , The Hamburg Fair
Lyme Land Trust , Bushy Hill Nature Center, CT River Museum
Lyme-Old Lyme Education Founda, Lyman Allyn Art Museum , Community Music School , Florence Griswold Museum , Lyme- Old Lyme High School Saf
Tour de Lyme , Touch a Truck, Estuary Council of Seniors, Lyme Art Association , Valley Shore YMCA
Middlesex Hospital Shoreline m, High Hopes , Valley Shore YMCA , Lyme Ambulance Association, The Terri Brodeur Cancer Found
Love Promise Stories from Reynolds' Subaru
Subaru and Reynolds' Subaru believe in making a positive impact on the communities in which we live and work. We uphold that belief through our Love Promise Community Commitment. Every month, we select inspiring stories from customers and partners from around our area who strive to support our collective commitment and feature them here
Coastal Cleanup at Rocky Neck - Michiela M
Every September the International Coastal Cleanup, the largest global volunteer effort of its kind, promotes trash removal along the shorelines. As part of the International Coastal Cleanup, Save the Sound hosts the Connecticut Cleanup, a volunteer effort both inland and shoreline to remove trash that could find its way into Long Island Sound. With the help of our hard working volunteers we not only remove trash but record and monitor our findings to help eliminate litter at its source. I have been the Cleanup Captain for this event at Rocky Neck State Park for the last 6 years. Throughout that time I have seen a significant growth in our volunteer efforts and with the partnership of Reynolds Subaru we have seen an even bigger turnout. Together we have increased our number of volunteers, increased the amount of trash removed, and promoted a cleaner environment. Just this past year we were able to collect over 150lbs of trash, more than 1100 cigarette butts, and narrow down items of local concern at Rocky Neck. Reynolds Subaru does an incredible job of supporting this event and also in promoting their love for the outdoors. They get not only their employees but their customers to join in on the event, offering donuts and coffee to those who donated their time for such an important cause. It has been wonderful working with Reynolds Subaru and I look forward to our continued work in keeping our coastline clean.
---
Connecting Community through Storytelling - Kathryn W
Connecting Community Through Storytelling at Reynolds' Subaru I have been a storyteller and musician for many years and have performed in many unusual venues, but when Reynolds' Subaru contacted the Connecticut Storytelling Center to book a performance, I was intrigued. I had never performed at a car dealership before! Families gathered in the beautiful "backyard" of Reynolds' Subaru in Lyme, CT in August 2021. The Reynolds' team greeted everyone with smiles, cold lemonade, hot dogs, popcorn, and Ben & Jerry's ice cream; the perfect picnic dinner to enjoy while listening to storytelling and sing-a-long songs. In support of Subaru Loves Learning, attendees were asked to bring school supply donations to the event in exchange for free raffle tickets to win gift certificates and experiences. Raffle items included take out family dinners at many of Reynolds' Subaru crews favorite spots and family experiences like the CT steam train and river boat cruise. The families eagerly participated in the stories, sang along, and did a bit of dancing, despite the heat! At the Storytelling Center, we say that we "connect lives – one story at a time". Reynolds' Subaru helped us do just that! Ann Shapiro Connecticut Storytelling Center From a long time Reynolds' Subaru customer; a very kind compassionate note accompanied by many additional school supply donations for our Subaru Loves Learning partner school, the Kathleen E Goodwin Elementary School. "To our friends at Reynolds' Subaru, We wish to extend our "thank you" for your share the love event to collect school supplies. The food and ice cream and all the wonderful door prizes on your spectacular grounds was way above fantastic! And you made everyone so welcome. Your entertainment was great fun. You all put so much hard work in!" Kevin and Kim D. As one of the owners of Reynolds' Subaru I strive to live the Subaru Love Promise each, and every day in how I treat my team, our guests and especially our community. The support from our other shoreline businesses in support of our event through generous donations was awe inspiring. This event was designed to give families a free event to attend together, laugh a little, dance and enjoy being together outside. The request for school supply donations, was our way of teaching the next generation to give back. One of the most powerful moments of the night for me was when two different young men, from different families, brought to me the backpacks they won in the raffle to donate to our partner school. I know the Subaru Love Promise works and we will continue to support it for generations to come. With appreciation for our generous shoreline community, Kathryn Wayland CEO of Reynolds' Subaru
---
Comfort for Critters - Sonja V
My name is Sonja Venetianer. I go to East Hampton Middle School and my dad works as a mechanic for Reynolds Subaru of Connecticut. As part of the 8th grade curriculum, we have to complete a Capstone Project. I knew what I would do the moment the project got assigned. I wanted to help animals. So many innocent cats and dogs are abandoned, abused, and left to a life in shelters. This problem will never go away. But the best thing we can do is try to fight against it. As my Capstone, I decided to collect donations for the POA Animal Shelter of East Hartford. This place is a no-kill, non-profit organization where I adopted 2 of my cats from. Seeing how much they have grown from the terrified, little beings they were to the strong, playful, independent cats they are today made me realize that all animals deserve this. Collecting these donations will bring comfort and care to the animals in the shelters along with the workers that run them. Thanks to Reynolds Subaru, I was able to promote my Capstone and collect donations from there. Doing this led to the success of my project - donating 1 dog bed, 1 cat bed, 23 blankets, 37 towels, 1 mat, 19 paper towel rolls, 23 bags of dog treats, 7 bags of cat treats, 4 bags of dog food, 11 bags of cat food, 41 cat toys, 39 dog toys, 2 rolls of doggie bags, 2 dog collars, 4 cat collars, 90 cans of cat food, 42 cans of dog food, 194 puppy pads, 14 food/water bowls, 2 dog harnesses, 9 dog leashes, 26 trash bags, 300 pairs of gloves, 16 bottles of soap, 62 puppy diapers, 16 cleaning mittens, 1 cat outfit, 3 dog outfits, 2 flea/tick collars, 1 cat harness, 40 cat pan liners, 2 diffusers, 5 brushes, 3 pet safety lights, 4 litter scoopers, 3 trays, 8 litter bins/boxes, 5 bags of litter, 12 toilet paper rolls, 7 hand sanitizers, 1 bottle of dog shampoo, and 1 dog pen, all weighing 407.7 pounds. I also collected monetary donations and was able to raise $232. These donations helped the animals and workers of the shelters. A very special thanks to Ms. Kathryn Wayland who helped me through this process and led it to success! Even though this act didn't solve the problem or make it go away, it helped, and more actions like this one day may lead to no animals being stuck in the shelters.
---
Save a Suit - Alex C
Here at Save a Suit we provide veterans and transitioning service members with business suits, professional attire, and other clothing resources they need to achieve job security. We recently had the pleasure of receiving donations from our friends at Reynold's Subaru. They provided us with donations to help out our veterans! We want to express our gratitude and thank Reynold's Subaru for their continued support to Save a Suit, veterans, and the community!
---
Giving pets in need a fresh start - Susan W
Cooper had been living as a stray kitty outside. But it was getting colder out and winter was coming. Thankfully, someone scooped him up and brought him to the Connecticut Humane Society in Waterford, where he got care with the staff medical team. Reynolds Subaru was kind enough to support pets like Cooper in October for Subaru Loves Pets Month! When cats and dogs got adopted, Reynolds donated $100 each in their honor to CHS! So when Cooper went home that month, Reynolds made a donation to get another pet's care started! Visit CThumane.org for more information on the pets.
---
CLOSE TO HOME - Dina C
Cancer, such an evil word. We have all known someone who has been affected by it. When it strikes close to home with someone you love, life is never the same. January 2019, my sister was diagnosed with breast cancer. Undergoing chemotherapy, surgery, and radiation were only part of the ordeal in living with breast cancer. Exhaustion, lack of sleep, constant pain and hair loss are just a few of the other struggles. Seeing her maintain her job as a nurse practitioner, be an upbeat "Nonna" and all the other day to day living while going through her treatments was astonishing. She stayed positive and never wavered. Thinking of her struggles is what prompted me to want to do something more for breast cancer awareness. I cannot say enough about my employer, Reynolds' Subaru. They are always ready and willing to help with any cause. When I mentioned what I wanted to do, they were completely supportive. Employees were challenged to wear pink Every Friday during the month of October. Anyone who accepted the challenge, $5 dollars was donated on their behalf to Connecticut Cancer Foundation and the Sandy Peszynski Cancer Foundation. We were able to raise a total of $450. Reynolds' Subaru went one step further and matched the donations we raised. Each organization will receive a total of $450 For CCF and a total of $450 for SPCF. The Subaru Love Promise is just one of the many reasons why I love working for Reynolds' Subaru. Nora Walters General Sales Manager Reynolds' Subaru
---
Yoga Love on Hamburg Cove - Lynn M
Imagine yourself swept away to a place of beauty, peace and calm. You are overlooking a quiet expanse of water where eagles glide, fish break the surface creating rings that reach to the shore, lotus flowers bloom, fox play, deer swim and a cacophony of birds serenade your silent contemplations. This place - allowing a remembrance of a time when the world seemed far away, and your mind was filled with wonder. This is what it is like to practice yoga on Hamburg Cove on the expansive lawn of Reynolds' Subaru. Each week, we gather, and the feeling comes right back – and now it comes more quickly, well before I unroll my mat. Upon arrival until I drive away, I feel my whole body release the weight of the world. This is the gift that Reynolds' Subaru is sharing with those needing some relaxation, some ease, some time to restore. I had dreamed of offering a slow-moving yoga practice on the banks of this cove. I was received with gentle open arms yet unsure of where their dealership and yoga merged. After a year and a half, the idea of "Yoga Love" revealed itself. Reynolds' Subaru has a history of supporting passions and organizations in our community. This time was no exception. As Corona Virus rages on and kids were starting school, it was clear that teacher and educators within the school systems were under immense strain. Reynolds' offered to sponsor and teachers or educators for an 8-week program. If there was room, mere mortals we also invited to participate as were, Subaru employees. Even though the days are getting shorter and a bit cooler, the community of participants remains undaunted (and layered) and ever grateful for the opportunity to bask in the beauty of nature. "The cure for everything is salt water – tears, sweat, or the sea" in this case, the cove.
---
Partnering for the birds and a better environment - Alisha M
Reynolds' Subaru is an exceptional example of doing the right thing for the environment and community. They have been an invaluable partner in a variety of ways for the Roger Tory Peterson Estuary Center of The Connecticut Audubon Society. As a non-profit organization committed to environmental conservation in Connecticut, we have a shared love for the very special lower Connecticut River area, where the Reynolds family has been a fixture for six generations. Their loyal following in the local community, especially with Subaru drivers who tend to enjoy outdoor recreation and have an interest in supporting environmental causes, has been instrumental in furthering our mission. At CAS-RTPEC our focus is on ensuring safe access to our local natural world –our forever jewel, through conservation, education and advocacy programs. Reynolds' Subaru is committed to their local environment and has been a critical partner with us in helping to protect coastal habitats, conserving birds and other wildlife and educating community members. Reynolds' Subaru has opened their dealership with open arms to all in the region. Reynold's Subaru and CAS-RTPEC's partnership is a true partnership of passion and purpose. The team at Reynolds' Subaru has been influential in environmental educational events and programs through collaboration. Reynolds' Subaru has opened their facilities to use as a backdrop for environmental programs and a launch point to access the river. They are located in an ideal location to host environmental programs, their perch overlooking Hamburg Cove has proven to be ideal for Bald Eagle Watch events during the past two winters. Last March, dozens of onlookers were awed by the spectacle of two eagles locking talons in the sky overhead. Last summer, we improvised their service bay into a presentation hall for a talk on the turtles of Connecticut. After the talk, we ventured outside to look for nests of Snapping Turtles that will sometimes crawl up from the cove to use the dealership's back yard to make their next generation. Reynolds' Marina, located next door to the Subaru dealership, has served as a meeting spot and launch point for educational and experiential kayak and canoe tours highlighting the birds and other wildlife that abound in Hamburg Cove. The marina also served as a place for our undergraduate summer research interns to conduct research on the diversity and distribution of submerged aquatic vegetation, a critical resource for waterfowl and fish. At CAS-RTPEC we believe that our work is locally relevant and nationally significant and we are proud to partner with such an inspiring company like Reynolds' Subaru and together we will continue to make a difference for the environment.
---
Cans for a Cause at Reynolds' Subaru - Emma M
My name is Emma Mannix and I'm 12 years old. My dad works for Reynolds' Subaru and I often hear of the many charities that the dealership donates to. I am a team member of Cans for a Cause, which is a local organization, founded by a 9yr old homeschooler, that empowers children and teens to learn about working, earning money, and donating to charities. We collect clean, CT refundable bottles and cans, return them for the deposit, and donate to charities. As of January 2020, over $16,000 has been donated/fundraised. I set a goal for the month of December to raise $100 for St. Jude Children's Hospital. I wrote a letter to Mr. Reynolds and Mrs. Wayland, of Reynolds' Subaru, asking if the dealership would like to help me reach my goal. They agreed, and I bought a collection bin, decorated it, and put it in the employee break room. Reynolds included information about my fundraiser in their monthly newsletter. Over the weeks, the bin kept on filling up and workers even brought in their own bags of cans from home! I worked hard in the evenings too, when I would help my mom or dad to return the cans and collect the money. One employee, Charlie Miller, made a couple of cash donations to my fund. He also asked that any of his referral bonuses be made out to Cans for a Cause! I couldn't believe it, but by the end of December, I had raised $300 for St. Jude's! I felt proud and happy that I asked Reynolds' Subaru to be part of my team. Together, we tripled my goal and are able to help even more sick children. The dealership was proud too, because they asked me to come in and take pictures with the owners and Charlie Miller, the employee who helped me so much. I am inspired by the difference I can make and Reynolds' has agreed to keep my collection bin in the break room. I will continue to collect cans and I look forward to picking another charity soon that we can help!
---
Bringing Warmth and Love to Cancer Patients! - Daniela V
Reynolds Subaru, Middlesex Health and The Leukemia and Lymphoma Society partnered on June 26th to hand out beautiful blankets to all cancer patients who came through the center. We were able to interact and speak with many patients and their families about their needs during treatment. One gentleman approached us to tell us his story about the blankets. The previous year his family member had received one from this partnership. He told us he went out of his way to stop into the dealership and thank them for their generosity as he felt very strongly about making sure those who helped provide such a nice touch should be recognized. Once word traveled around the treatment center that there were blankets available for their patients, many nurses and other hospital staff came down to request a few for their patients that were currently having a treatment performed in another area of the center. Each blanket was packed with a message of hope that was created by one of Reynolds customer's or staff. All blankets that were left at the end of the event were left at the center to give to those patients who would be coming in another day.
---