The 2021 Subaru Love Promise Customer and Community Commitment Award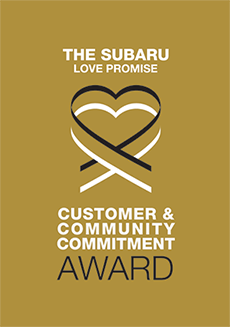 We've been nationally recognized for our dedication to our customers, our community, and the Subaru Love Promise.
We're honored to receive the 2021 Subaru Love Promise Customer and Community Commitment Award. This award nationally recognizes elite Subaru retailers who provide an exceptional customer experience at every interaction with Subaru. These retailers have also demonstrated an outstanding commitment to supporting passions and causes in their local communities in important areas such as the environment, community, health, education, and pets.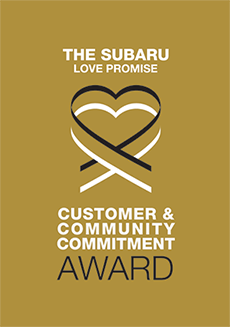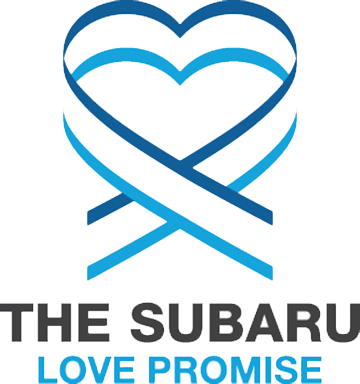 What is the Subaru Love Promise?
Subaru and our retailers believe in making the world a better place and the Subaru Love Promise is our vision of respecting all people. This is our commitment to show love and respect to our customers and to work to make a positive impact in the world.
How is Reynolds' Subaru dedicated locally to the Love Promise?
At Reynolds' Garage & Marine, our allegiance to the community began over 150 years ago on Hamburg Cove in Lyme, CT. For six generations, the Reynolds family has always felt it was their duty to support these organizations. Our Love Promise continues to grow with dedication and commitment to the Shore Line Community by building lifelong relationships with local nonprofits and charities, many of whom are friends and customers. Big enough to serve you. Small enough to know you.
Pet adoption , Lyme Horse Trials , The Hamburg Fair
Lyme Land Trust , Bushy Hill Nature Center, CT River Museum
Lyme-Old Lyme Education Founda, Lyman Allyn Art Museum , Community Music School , Florence Griswold Museum , Lyme- Old Lyme High School Saf
Tour de Lyme , Touch a Truck, Estuary Council of Seniors, Lyme Art Association , Valley Shore YMCA
Middlesex Hospital Shoreline m, High Hopes , Valley Shore YMCA , Lyme Ambulance Association, The Terri Brodeur Cancer Found
Love Promise Stories from Reynolds' Subaru
Subaru and Reynolds' Subaru believe in making a positive impact on the communities in which we live and work. We uphold that belief through our Love Promise Community Commitment. Every month, we select inspiring stories from customers and partners from around our area who strive to support our collective commitment and feature them here
Comfort for Critters - Sonja V
My name is Sonja Venetianer. I go to East Hampton Middle School and my dad works as a mechanic for Reynolds Subaru of Connecticut. As part of the 8th grade curriculum, we have to complete a Capstone Project. I knew what I would do the moment the project got assigned. I wanted to help animals. So many innocent cats and dogs are abandoned, abused, and left to a life in shelters. This problem will never go away. But the best thing we can do is try to fight against it. As my Capstone, I decided to collect donations for the POA Animal Shelter of East Hartford. This place is a no-kill, non-profit organization where I adopted 2 of my cats from. Seeing how much they have grown from the terrified, little beings they were to the strong, playful, independent cats they are today made me realize that all animals deserve this. Collecting these donations will bring comfort and care to the animals in the shelters along with the workers that run them. Thanks to Reynolds Subaru, I was able to promote my Capstone and collect donations from there. Doing this led to the success of my project - donating 1 dog bed, 1 cat bed, 23 blankets, 37 towels, 1 mat, 19 paper towel rolls, 23 bags of dog treats, 7 bags of cat treats, 4 bags of dog food, 11 bags of cat food, 41 cat toys, 39 dog toys, 2 rolls of doggie bags, 2 dog collars, 4 cat collars, 90 cans of cat food, 42 cans of dog food, 194 puppy pads, 14 food/water bowls, 2 dog harnesses, 9 dog leashes, 26 trash bags, 300 pairs of gloves, 16 bottles of soap, 62 puppy diapers, 16 cleaning mittens, 1 cat outfit, 3 dog outfits, 2 flea/tick collars, 1 cat harness, 40 cat pan liners, 2 diffusers, 5 brushes, 3 pet safety lights, 4 litter scoopers, 3 trays, 8 litter bins/boxes, 5 bags of litter, 12 toilet paper rolls, 7 hand sanitizers, 1 bottle of dog shampoo, and 1 dog pen, all weighing 407.7 pounds. I also collected monetary donations and was able to raise $232. These donations helped the animals and workers of the shelters. A very special thanks to Ms. Kathryn Wayland who helped me through this process and led it to success! Even though this act didn't solve the problem or make it go away, it helped, and more actions like this one day may lead to no animals being stuck in the shelters.
---
Save a Suit - Alex C
Here at Save a Suit we provide veterans and transitioning service members with business suits, professional attire, and other clothing resources they need to achieve job security. We recently had the pleasure of receiving donations from our friends at Reynold's Subaru. They provided us with donations to help out our veterans! We want to express our gratitude and thank Reynold's Subaru for their continued support to Save a Suit, veterans, and the community!
---
Giving pets in need a fresh start - Susan W
Cooper had been living as a stray kitty outside. But it was getting colder out and winter was coming. Thankfully, someone scooped him up and brought him to the Connecticut Humane Society in Waterford, where he got care with the staff medical team. Reynolds Subaru was kind enough to support pets like Cooper in October for Subaru Loves Pets Month! When cats and dogs got adopted, Reynolds donated $100 each in their honor to CHS! So when Cooper went home that month, Reynolds made a donation to get another pet's care started! Visit CThumane.org for more information on the pets.
---
CLOSE TO HOME - Dina C
Cancer, such an evil word. We have all known someone who has been affected by it. When it strikes close to home with someone you love, life is never the same. January 2019, my sister was diagnosed with breast cancer. Undergoing chemotherapy, surgery, and radiation were only part of the ordeal in living with breast cancer. Exhaustion, lack of sleep, constant pain and hair loss are just a few of the other struggles. Seeing her maintain her job as a nurse practitioner, be an upbeat "Nonna" and all the other day to day living while going through her treatments was astonishing. She stayed positive and never wavered. Thinking of her struggles is what prompted me to want to do something more for breast cancer awareness. I cannot say enough about my employer, Reynolds' Subaru. They are always ready and willing to help with any cause. When I mentioned what I wanted to do, they were completely supportive. Employees were challenged to wear pink Every Friday during the month of October. Anyone who accepted the challenge, $5 dollars was donated on their behalf to Connecticut Cancer Foundation and the Sandy Peszynski Cancer Foundation. We were able to raise a total of $450. Reynolds' Subaru went one step further and matched the donations we raised. Each organization will receive a total of $450 For CCF and a total of $450 for SPCF. The Subaru Love Promise is just one of the many reasons why I love working for Reynolds' Subaru. Nora Walters General Sales Manager Reynolds' Subaru
---
Yoga Love on Hamburg Cove - Lynn M
Imagine yourself swept away to a place of beauty, peace and calm. You are overlooking a quiet expanse of water where eagles glide, fish break the surface creating rings that reach to the shore, lotus flowers bloom, fox play, deer swim and a cacophony of birds serenade your silent contemplations. This place - allowing a remembrance of a time when the world seemed far away, and your mind was filled with wonder. This is what it is like to practice yoga on Hamburg Cove on the expansive lawn of Reynolds' Subaru. Each week, we gather, and the feeling comes right back – and now it comes more quickly, well before I unroll my mat. Upon arrival until I drive away, I feel my whole body release the weight of the world. This is the gift that Reynolds' Subaru is sharing with those needing some relaxation, some ease, some time to restore. I had dreamed of offering a slow-moving yoga practice on the banks of this cove. I was received with gentle open arms yet unsure of where their dealership and yoga merged. After a year and a half, the idea of "Yoga Love" revealed itself. Reynolds' Subaru has a history of supporting passions and organizations in our community. This time was no exception. As Corona Virus rages on and kids were starting school, it was clear that teacher and educators within the school systems were under immense strain. Reynolds' offered to sponsor and teachers or educators for an 8-week program. If there was room, mere mortals we also invited to participate as were, Subaru employees. Even though the days are getting shorter and a bit cooler, the community of participants remains undaunted (and layered) and ever grateful for the opportunity to bask in the beauty of nature. "The cure for everything is salt water – tears, sweat, or the sea" in this case, the cove.
---
Partnering for the birds and a better environment - Alisha M
Reynolds' Subaru is an exceptional example of doing the right thing for the environment and community. They have been an invaluable partner in a variety of ways for the Roger Tory Peterson Estuary Center of The Connecticut Audubon Society. As a non-profit organization committed to environmental conservation in Connecticut, we have a shared love for the very special lower Connecticut River area, where the Reynolds family has been a fixture for six generations. Their loyal following in the local community, especially with Subaru drivers who tend to enjoy outdoor recreation and have an interest in supporting environmental causes, has been instrumental in furthering our mission. At CAS-RTPEC our focus is on ensuring safe access to our local natural world –our forever jewel, through conservation, education and advocacy programs. Reynolds' Subaru is committed to their local environment and has been a critical partner with us in helping to protect coastal habitats, conserving birds and other wildlife and educating community members. Reynolds' Subaru has opened their dealership with open arms to all in the region. Reynold's Subaru and CAS-RTPEC's partnership is a true partnership of passion and purpose. The team at Reynolds' Subaru has been influential in environmental educational events and programs through collaboration. Reynolds' Subaru has opened their facilities to use as a backdrop for environmental programs and a launch point to access the river. They are located in an ideal location to host environmental programs, their perch overlooking Hamburg Cove has proven to be ideal for Bald Eagle Watch events during the past two winters. Last March, dozens of onlookers were awed by the spectacle of two eagles locking talons in the sky overhead. Last summer, we improvised their service bay into a presentation hall for a talk on the turtles of Connecticut. After the talk, we ventured outside to look for nests of Snapping Turtles that will sometimes crawl up from the cove to use the dealership's back yard to make their next generation. Reynolds' Marina, located next door to the Subaru dealership, has served as a meeting spot and launch point for educational and experiential kayak and canoe tours highlighting the birds and other wildlife that abound in Hamburg Cove. The marina also served as a place for our undergraduate summer research interns to conduct research on the diversity and distribution of submerged aquatic vegetation, a critical resource for waterfowl and fish. At CAS-RTPEC we believe that our work is locally relevant and nationally significant and we are proud to partner with such an inspiring company like Reynolds' Subaru and together we will continue to make a difference for the environment.
---
Cans for a Cause at Reynolds' Subaru - Emma M
My name is Emma Mannix and I'm 12 years old. My dad works for Reynolds' Subaru and I often hear of the many charities that the dealership donates to. I am a team member of Cans for a Cause, which is a local organization, founded by a 9yr old homeschooler, that empowers children and teens to learn about working, earning money, and donating to charities. We collect clean, CT refundable bottles and cans, return them for the deposit, and donate to charities. As of January 2020, over $16,000 has been donated/fundraised. I set a goal for the month of December to raise $100 for St. Jude Children's Hospital. I wrote a letter to Mr. Reynolds and Mrs. Wayland, of Reynolds' Subaru, asking if the dealership would like to help me reach my goal. They agreed, and I bought a collection bin, decorated it, and put it in the employee break room. Reynolds included information about my fundraiser in their monthly newsletter. Over the weeks, the bin kept on filling up and workers even brought in their own bags of cans from home! I worked hard in the evenings too, when I would help my mom or dad to return the cans and collect the money. One employee, Charlie Miller, made a couple of cash donations to my fund. He also asked that any of his referral bonuses be made out to Cans for a Cause! I couldn't believe it, but by the end of December, I had raised $300 for St. Jude's! I felt proud and happy that I asked Reynolds' Subaru to be part of my team. Together, we tripled my goal and are able to help even more sick children. The dealership was proud too, because they asked me to come in and take pictures with the owners and Charlie Miller, the employee who helped me so much. I am inspired by the difference I can make and Reynolds' has agreed to keep my collection bin in the break room. I will continue to collect cans and I look forward to picking another charity soon that we can help!
---
Bringing Warmth and Love to Cancer Patients! - Daniela V
Reynolds Subaru, Middlesex Health and The Leukemia and Lymphoma Society partnered on June 26th to hand out beautiful blankets to all cancer patients who came through the center. We were able to interact and speak with many patients and their families about their needs during treatment. One gentleman approached us to tell us his story about the blankets. The previous year his family member had received one from this partnership. He told us he went out of his way to stop into the dealership and thank them for their generosity as he felt very strongly about making sure those who helped provide such a nice touch should be recognized. Once word traveled around the treatment center that there were blankets available for their patients, many nurses and other hospital staff came down to request a few for their patients that were currently having a treatment performed in another area of the center. Each blanket was packed with a message of hope that was created by one of Reynolds customer's or staff. All blankets that were left at the end of the event were left at the center to give to those patients who would be coming in another day.
---
Reynolds' Subaru Supports Cancer Patients - Sarah M
It takes courage, strength and resilience to battle and survive cancer and to face any personal struggles that come with such a diagnosis. Middlesex Health Cancer Center recognizes this struggle annually at its Survivors Day Celebration. The first Sunday in June is designated as National Cancer Survivors Day and this year, the Cancer Center recognized hundreds of survivors in Middlesex County and honored outstanding individuals and organizations that have made an impact on the lives of people with cancer, including Reynolds' Subaru. Middlesex Health Cancer Center selected Reynolds' Subaru to receive a prestigious award in recognition of its commitment to supporting people with cancer in our community. As a local business, Reynolds' Subaru has set an example through its support of Middlesex Health Shoreline Medical Center and Cancer Center for nearly two decades. This includes leadership gifts, which helped build and relocate the Shoreline Medical Center and open Middlesex Health Cancer Center in Westbrook. In addition, Reynolds' Subaru has donated comfort blankets to patients undergoing treatment at Middlesex Health Cancer Center through the Share the Love program. The Reynolds' family believes strongly in giving back to the community that has made their business a success for more than a century. This includes ensuring that high quality health care and cancer care is available and accessible to the Middlesex County and Shoreline community. Thank you Reynolds' Subaru.
---
A Shocking Addition at Reynolds' Subaru - Nora W
Each year, more than 356,000 out-of-hospital cardiac arrests occur in the United States. Among middle-aged adults treated for Sudden Cardiac Arrests, the majority had no symptoms before the onset of the arrest. Over 10,000 SCA's occur in the workplace. Having an AED in the workplace can mean the difference between life and death. With such staggering statistics, the Reynolds family of Reynolds' Subaru felt compelled to become a HEARTSafe workplace by installing an AED. Previously, the family has also offered at no cost to employees and their families, certified CPR training. They also worked with the NADA Charitable Foundation to supply their local ambulance with CPR mannequins for training their volunteers and residents. This family not only cares about us, their employee's, but also their community and their guests. In just the short seven years I have been employed by Reynolds' Subaru, the dealership has tripled the number of employees. To garner the best training the Reynolds partnered with Critical Skills Education & Training to train all our dedicated employees how to successfully administer the AED. The training only took about a half hour worth of time. The trainers Doug and Colleen made a rather dismal topic interesting and engaging; they were excellent! Their knowledge about the heart, their stories from their own work on the ambulance and their willingness to answer any and all questions made us all more comfortable to leap into action confidently when needed. We are incredibly grateful for the opportunity given to us. We are now prepared in case cardiac emergency strikes our employees, customers or visitors. More importantly with AED's being installed more frequently, we all know how to act if it occurs at our local grocery store, gym or library. I am a very proud employee of Reynolds' Subaru and thank the Reynolds family for their compassion. It's our Subaru Love Promise. https://www.cardiopartners.com/blog/whats-the-difference-between-a-heart-attack-and-sudden-cardiac-arrest/
---
With the Subaru Love Promise there's a Safe Future - Sarah C
My name is Sarah Collelo, I am a compassionate Mom from East Lyme CT and a proud Reynolds' Subaru Ambassador. Why did I become a Subaru Ambassador? As a mother of two young boys it is my job, first and foremost, to keep them safe; which for me means owning a Subaru. The other reason I chose Subaru is their commitment and involvement in giving back through the Subaru Love Promise program. Why did I choose Reynolds' Subaru as my Subaru retailer? The family like service that they provide to every single person, not just me, when they walk through the door is unlike any other dealership. From my first step in the door I have felt like part of the Reynolds family. Now, after becoming their Ambassador everyone knows my name and my children's names. The level of trust, care and commitment is evident in every aspect of their business, from parts, to service to sales.In the last month I was thinking about how my two boys needed new jackets. Now, I am fortunate enough to provide them for my children, but many people cannot. Many people close to my home cannot do the same for their children for reasons beyond their control. That's why I teamed up with Reynolds' Subaru for the Share the Warmth event they hosted from Jan 15-February 14th, 2019 to collect gently used, and new coats, hats, mittens, scarves and socks for Safe Futures.Why Safe Futures? Safe Futures, Inc. provides so much more than just a 24-hour hotline and an emergency shelter for men, women, children and families. They are the ONLY shelter in CT that currently allows pets in their domestic violence shelter and transitional housing. They offer advocacy for criminal domestic violence court cases, and have a civil court advocate, walk-in counseling services, and even offer a prevention education program to the youth throughout Southeastern Connecticut. In 2018 alone they assisted 6,958 victims. They are looking to expand their offerings all the time so that no one is without a Safe Future. Upon completion of the collection on Feb 14th, The Reynolds family counted the donations and purchased 100 additional items to bring the total number of donations to 212 items!!!On February 27th, 2019 I was invited to join owners Hayden and Kathryn and the Reynolds' Subaru Team to present the winter gear, stuffed into a 2019 Subaru Forester in their showroom, to Melissa Zaitchik, the Development Manager for Safe Futures. As my personal Love Promise I made a financial donation to Safe Futures on behalf of my family. My two boys joined me in the presentation so they too can learn the joy of giving back and hopefully make a Safe Future for their generation.
---
Love is Blossoming at Reynolds Subaru - Marlee S
When I received the call from Kathryn at Reynolds' Subaru to partner on an upcoming workshop, I was immediately hooked, because it wasn't about her, it was about helping others. Recently I had been working on expanding my business by offering hands-on floral arranging workshops at local restaurants and retail stores. Most often the attendees pay a fee, hone their floral arranging skills with step by step instruction from me and take a beautiful centerpiece home with them. Kathryn wanted to allow her workshop attendees to take home an arrangement too, but she also wanted to add what she called her Subaru Love Promise spin on it. She wanted Reynolds' Subaru to pay for supplies for a second arrangement to donate to senior living facilities along the shoreline to bring a smile to her neighbors. As a fellow small family business owner, our commitment to our community is one we do not take lightly. Without our neighbors' support and our neighbors' business we could not operate, it keeps us all humble. The response was overwhelming to the workshop and it inspired me to offer Kathryn the supplies at a reduced cost to show my support and commitment to the cause. The feeling in the room during the workshop was one of kindness, generosity, and good vibes. Even Hayden exhibited some amazing floral skills. As everyone was working away, Kathryn surprised everyone by offering to donate 100% of all workshop fees to a charity of their choice, they all voted for Child & Family of New London CT. As everyone was leaving the workshop, they all asked, "When can you do this again?". A few very generous attendees, including Kathryn and Hayden, donated both arrangements. The next day Kathryn, Hayden, myself and many employees delivered arrangements to eight different facilities. Their response was overwhelming with gratitude, accompanied by many smiles from residents. The Subaru Love Promise is infectious and embodied by Reynolds' Subaru. Looking forward to our next event in March and paying it forward once again. It always does feel better to give than to receive. Love keeps blossoming in Lyme CT.
---
Supporting Community and Troop 26 Boy Scouts - Mary P
If driving by Reynolds Subaru In late August, you might look twice, as their employees clear their lot in only a matter of hours. Locals often ask, where did all the cars go? The Reynolds team makes it look easy to hide over one hundred cars and numerous boats inside buildings, and on neighboring properties. A tradition well known to us locals, as the Reynolds family have been donating the use of their lot to the local Lyme/Old Lyme Boy Scouts Troop 26 for the annual Hamburg Fair for well over twenty years now. The boy scouts of Troop 26 and their adult leaders work throughout the weekend parking the cars of fairgoers on the Reynolds lot. The fair, now in its' 117th year, organized by an all-volunteer staff happens on the local Lyme Grange #147 property, directly across the street from the dealership. All proceeds from the fair, if any, are donated right back to two town non-profits, the Lyme Fire Company and Ambulance Company. Over the past twenty years, alone Troop 26 has raised over $60,000!!! Last year this allowed our troop to replace the troop trailer which was no longer safe for the road. It's not only their major fundraiser for the year but also an educational experience for the boys. During the weekend the boys get the unique opportunity to interact with their community, often answering questions about what they do for our neighbors. In addition, the boys make changes and handle money, deal with the public, pick up litter and often for the first time, work on their feet for their four-hour shift. What amazes me is not only what the Reynolds do to support the boys, but also that they are a major sponsor for the Hamburg Fair. They volunteer their own time at the fair in numerous capacities as their fathers and grandfathers have done for generations as well. As the Troop 26 Treasurer and proud parent of a new Eagle Scout, I cannot think of a family that lives the Subaru Love Promise day in and day out. I would even venture to say, it's in their blood and has been for six generations of their successful business. From a very Happy Reynolds Subaru customer: Mary Powell-St. Louis Lyme, CT
---
Growing, Gathering, Giving - Kathryn W
Growing, Gathering & Giving This summer, just like last year, we purchased an extra-large CSA (community supported agriculture) share from our very local Upper Pond Farm to donate to our neighborhood soup kitchen pantry. Too often families are flooded with canned goods and very little fresh produce. At Reynolds' Subaru we believe all families should be able to serve healthy meals to their children. What makes this story even more impressive is that the farm was financed and built by one of our very own generous Subaru owners. The Subaru owner shared a desire, like us, to give back locally. One of the hardest difficulties for local CSA share farms is the inability to access affordable rich farmland. The farm is now leased to two ambitious young farmers and it is thriving. The farm itself also donates any leftovers they have to the soup kitchen, but as owner Baylee Drown explained to me, often they have nothing left. They cannot count on having weekly donations from the farm alone, sometimes a result of weather or crop failures. Our donation allows the soup kitchen to count on this donation weekly consistently throughout the summer. The soup kitchen has a volunteer that drives to the farmers market every Friday collecting these donations. We also offer to serve as a back- up driver if the volunteer is unavailable. Our Subaru Love Promise, supporting another local family business while supporting many local families in need. One small donation in our view with a very big local impact!
---
Love Promise Blanket Delivery - Brandy S
On June 27, 2018 The Leukemia & Lymphoma Society (LLS) staff member Brandy Sinisi met with Hayden Reynolds and Kathryn Wayland from Reynolds Subaru (Lyme, CT), to deliver blankets and messages of hope, to Middlesex Hospital Shoreline Medical Center and Cancer Center (Westbrook, CT). We were greeted by Justin Drew and Sarah Moore, who were very grateful for the donation to their patients. We took pictures inside the beautiful facility and the proceeded to hand out blankets to patients who were there for treatment for the duration of the morning. The rest of the blankets will be used when patients visit the facility during their treatments. There was a volunteer helping at the front of the facility who was directing patients over to us who she knew would benefit from this wonderful donation. A few patients told us about their cancer journey and how this was an uplifting touch to their day.
---
Inspiring our youth to Love the Earth - Sue C
As a multi-generational family business in our very special town of Lyme it is important for us to inspire the next generation today and every day. In my youth I enjoyed getting my hands dirty and learned to love plants from my Mom and my Grandfather. I enjoyed that first fresh sugar snap pea off the vine every spring after planting seeds and watching them germinate, but not all children learn to love the Earth in childhood.Earth Day is a chance to reach out to all children and teach them how to Love the Earth and preserve the Earth for future generations. We joined forces again with our local Lyme Land Trust and donated goodie bags for their family Earth Day celebration on Sunday April 22nd. Subaru's Eco-Friendly retailer recyclable bags contained a frisbee to encourage kids to get outside, a native flowering plant for them to plant in their own backyard and seeds to attract bees and butterflies. Our objective was to encourage children to learn about the declining bee and butterfly population and learn about the advantages that come from planting native plants. The celebration included a live birds of prey presentation educating children on dangers of litter to wildlife, a scavenger hunt and much more. The instruction took place in the Land Trust's new outdoor nature and teaching center in Banningwood Preserve. The local boy scout troop built the benches, fire pit, picnic tables and tent platform during a recent Eagle Project to create this new outdoor classroom. Reynolds' Subaru is a proud supporter of our local Boy Scout Troop 26 too that continuously assist the Lyme Land Trust. The circle of giving is a continuous work in process, just like our Earth. At Reynolds' Subaru we are constantly looking to keep it moving.
---
Reynolds' Subaru Loves Teens: Car Care 101 - Kathryn W
Reynolds' Subaru Loves Teens: Car Care 101 "Love only grows by sharing. You can only have more for yourself by giving it away to others." Brian Tracy. Sharing their expertise is what the dedicated and educated staff at Reynolds' Subaru of Lyme CT did on a cold wet Wednesday night this February. Reynolds' Subaru invited all teens along the shoreline, together with our local boy scout troop, to join for a night of hands-on car care, safety and maintenance. In respect to how busy most of our teenagers are today, the Reynolds family offered a delicious meal of subs and pizza for all attendees and their families. The evening included special guests from Subaru University and Gateway Community College to offer insight to teenagers looking at a career in the auto industry. Loyal Subaru customer and friend, Mike Weglarz, an officer of the East Hartford Police Department, educated the teens about safety on the road and proper procedures during road rage and other emergency situations. Jim from our sales department spoke to the teenagers on Subaru eyesight technology. Many of our Subaru certified technicians worked alongside the teenagers going over regular maintenance and car care tips. So many good questions were asked. Many teens had the opportunity to change a tire for first time, learn how to change a fuse, jump start a dead battery and learn how to check their oil and other fluids. Each guest left with a Reynolds goody bag with an ice scraper, key chain and flashlight. The Subaru Love Promise is a circle and we kept it revolving by asking them to write a message on a paper heart to our staff letting them know their favorite activity or just a kind note of thanks. Most impressive is that our staff opted to donate their time for the night. Additionally, many employees came in excited the next day, asking when can we host our next car care night? In closing we had a raffle for an IPAD mini, a gas card and a safety kit for a few lucky winners. We will never know the power of our gift of time for these children, but feel we are making a difference. We hope they may share their knowledge gained and possibly pay it forward one day too.
---
Distribution of Warmth - Daniela H
We partnered up with Reynolds Subaru which they are located in Lyme, CT. We provided Middlesex Hospital with 80 blankets, 12 crafts kits and cards of hope for each blanket which we had the chance to distribute directly to patients to provide comfort and warmth to patients. As I arrived to Middlesex Hospital I was greeted by Sarah Moore, Director of Development and Justin Drew, Cancer Center Director. They had a table set up in the atrium where we set up the blankets, craft kits and put a card of hope with each blanket. We had the honor to distribute the blankets and craft kits to patients as they came in and out of appointments or treatments. It was very touching and inspirational. Not only did I have the honor to talk to these strong courageous individuals but was honored by the smile we put on their face. After we distributed the blankets to patients we had a little tour of the center. They have Arts & Crafts which is enjoyable and stress free for patients and families four days a week in the atrium. As we were distributing the blankets which was right next to the arts & crafts table we saw how patients enjoyed this activity. Arts & Crafts is not just for children; every one of all ages can enjoy this. We gave a craft kit to an older patient who questioned if she could have a craft kit for herself; we of course said "OF COURSE YOU COULD" anyone can have one; she enjoyed drawing and coloring. It was a rewarding experience!
---
Small Town, Big Love - Kathryn W
At Reynolds' Subaru, we feel that when looking for inspiration, your own community is the best place to start. Ours has been left with heavy hearts ever since our own Caroline O'Brien lost her battle to a rare form of brain cancer in 2010, at only 11 years old. All who knew her would say that Caroline embodied both kindness and generosity, and even during her most difficult times, she still wanted to help other children. To turn this love into action, Caroline and her family teamed up to start Caroline's Miracle Foundation. This non-profit organization is dedicated to helping children battling cancer by bringing them smiles. On June 5th, we here at Reynolds' Subaru collaborated, and with our employees and loved ones, made 27 no-sew blankets, that we will give to children at Dana Farber, where Caroline so bravely fought her illness. We worked in teams, with some cutting fleece, and others tying the ends to secure the blankets. At this event, Caroline's mom, Jennifer, addressed the group, recalling how her own children received blankets at bereavement camp after losing their sister, and how special it was to watch them give a gift of comfort to other children. Laura L.Wayland, daughter of owner, Kathryn, went to school in the same class as Caroline, so making these blankets was especially meaningful to her. Even though she is not with us today, Caroline's generosity still impacts our community and beyond, bettering our small town by bringing people together.
---
Like Riding a Bike, We Never Forget to Give Back - Cassie S
Our Reynolds' Subaru Love Promise is to go above and beyond in our local partnerships to enhance the lives of our neighbors and community. With this in mind, we once again partnered as a corporate sponsor for our local Lyme Land Trust's annual Tour de Lyme bike ride, and volunteered to be a drop off site for Bikes for Kids. Bike for Kids is a local non-profit organization that is run completely by volunteers, that collects and refurbishes old, unused bicycles and donates them to children in need. To date they have donated over 20,000 bicycles. Our Love Promise to this cause is to donate a new bike helmet for every bike donation received at our property and through the Tour de Lyme event. In an effort to raise awareness for their cause locally, we decided to fill a 2017 Subaru Impreza with the donated bike helmets. We are currently running a Facebook contest to guess how many bike helmets it took to fill an Impreza. Our winner will receive a $100 Visa gift card and just maybe, Bikes for Kids will garner another bike donation, a new volunteer or a generous donation. How many bike helmets do you think it takes to fill a Subaru Impreza?
---
Express Your Love - Cassie S
In conjunction with our Share the Love Hometown Charity partner, we collected art supplies during the Share the Love program from our staff and customers for their youth grief counseling expressive arts program. Center for Hospice Care of Southeast CT offers FREE art therapy for children 5-17 years old at their facility and in local areas to assist children in meeting their emotional needs during the loss of loved one. Each art bag, some even made from recycled Subaru banners, contained a personal note of encouragement from a Reynolds' Subaru employee. Our love promise to our community is to take each new partnership and find a way to give back locally and continue to make our world a kinder, gentler place. The bags were presented along with our Share the Love check presentation to Hospice of SE CT.
---
Keeping Our Community Heart Healthy! - Cassie S
Our inspiration this month for our Love Promise to our community came from our very own Subaru Ambassador Elizabeth Joss. Elizabeth shared her frightening story of her history with heart disease with Reynolds' "If someone would have told me at the age of 42 that I had to have emergency double by-pass heart surgery, I would have thought they were crazy! However, that is exactly what happened in May of 2004. The doctors were as surprised as I was, even though I have a long family history of heart disease I was not diagnosed with red flag indicators such as: high blood pressure, high cholesterol, high BMI, or Diabetes.Warning signs that lead me to seek out professional care were: extra fatigue, occasional pain in my jaw, broke out in cold sweats, sporadic pains in my chest/upper back, and heart palpitations." In her honor and for the millions of others suffering from heart disease, we hosted a heart healthy day and collected donations from customers all month long for The American Heart Association. We partnered with our 2014 hometown Share the Love charity, The Middlesex Hospital. Their trained staff volunteered their own time and came on Saturday Feb 11th to offer free blood pressure readings and education to our attendees. Food and beverages were generously donated by our neighboring local family owned and operated shops! Our Love Promise is to keep the circle in motion, continuously offering our support for the community we call home!
---
A Community Partner and Neighbor - Sean M
Serving Lyme, Old Saybrook, Norwich, New London and the Middletown communities since 1859, Reynolds Subaru has always prided themselves with quality cars and customer service. They call our community home and know how important it is to provide quality products and services to their friends and neighbors. They also know how important it is to support many causes that their neighbors in need count on and Center for Hospice Care is fortunate to be one of them. For Reynolds' Subaru, Center for Hospice Care is very personal. The family lost their father, Gary, to a brain tumor almost four years ago, and Center for Hospice Care aided their family with many aspects of his care. The Reynolds made the decision to bring Gary home for his end-of-life care, but could not have done so without the support of Center for Hospice Care. Without the guidance of hospice, the level of care Gary received would not have been possible. Reynolds Subaru has long been advocates and contributors to our mission and recently Reynolds Subaru chose our cause to become a beneficiary through Subaru's Share the Love program. It's their intent to financially support Center for Hospice Care for the foreseeable future and promote our meaningful work to more residents in our community. From sponsoring our GALA, contributing to our Special Care Fund and the Share the Love promotion, Reynolds Subaru continually looks for new ways to further strengthen its partnership with Center for Hospice Care.
---
Reynolds' Subaru Gallups with High Hopes - Hayden R
Our dealership has been a proud supporter of High Hopes, a non-profit organization that provides therapy to children and adults with disabilities through the use of their numerous horses. This program changes their lives by expressing themselves through offered programs such as therapeutic horseback riding, equine assisted activities and therapies, and training and education (Balfour, 2016). Last November Reynolds Garage and Marine Inc. partnered with High Hopes in a new way to Share the Love. In additional to their continual annual financial support of at least $1,000 annually, High Hopes was celebrating five years of their successful holiday market that showcases handmade horse gift items, family entertainment and hayrides. Free to attend, all they ask is for a canned food donation to our very local Shoreline Soup kitchen. To celebrate five years and to raise additional funds, they offered raffle prizes, the grand prize being a Subaru Crosstrek from Reynolds Subaru. 1,500 tickets were sold at $50 a ticket and Reynolds generously discounted the car for additional fundraising potential for High Hopes. The event was extremely successful for High Hopes, the Shoreline Soup Kitchen and for the Subaru Crosstrek winner Chip Dahlke. The Reynolds family and staff of Reynolds Subaru is proud to support local charities in our backyard and will keep sharing the love with High Hopes in 2016.
---
Subaru Shares the Love with Middlesex Hospital - Hayden R
Reynolds Subaru and the Reynolds Family have been long-time supporters of Middlesex Hospital and our Shoreline Medical Center. We were honored that the they "Shared the Love" with us this year. The great folks at Subaru of New England and Subaru of America donated $7,514 and the Reynolds dealership contributed an additional $1,500 for a grand total of $9,014 in support of high quality health care in our community.
---