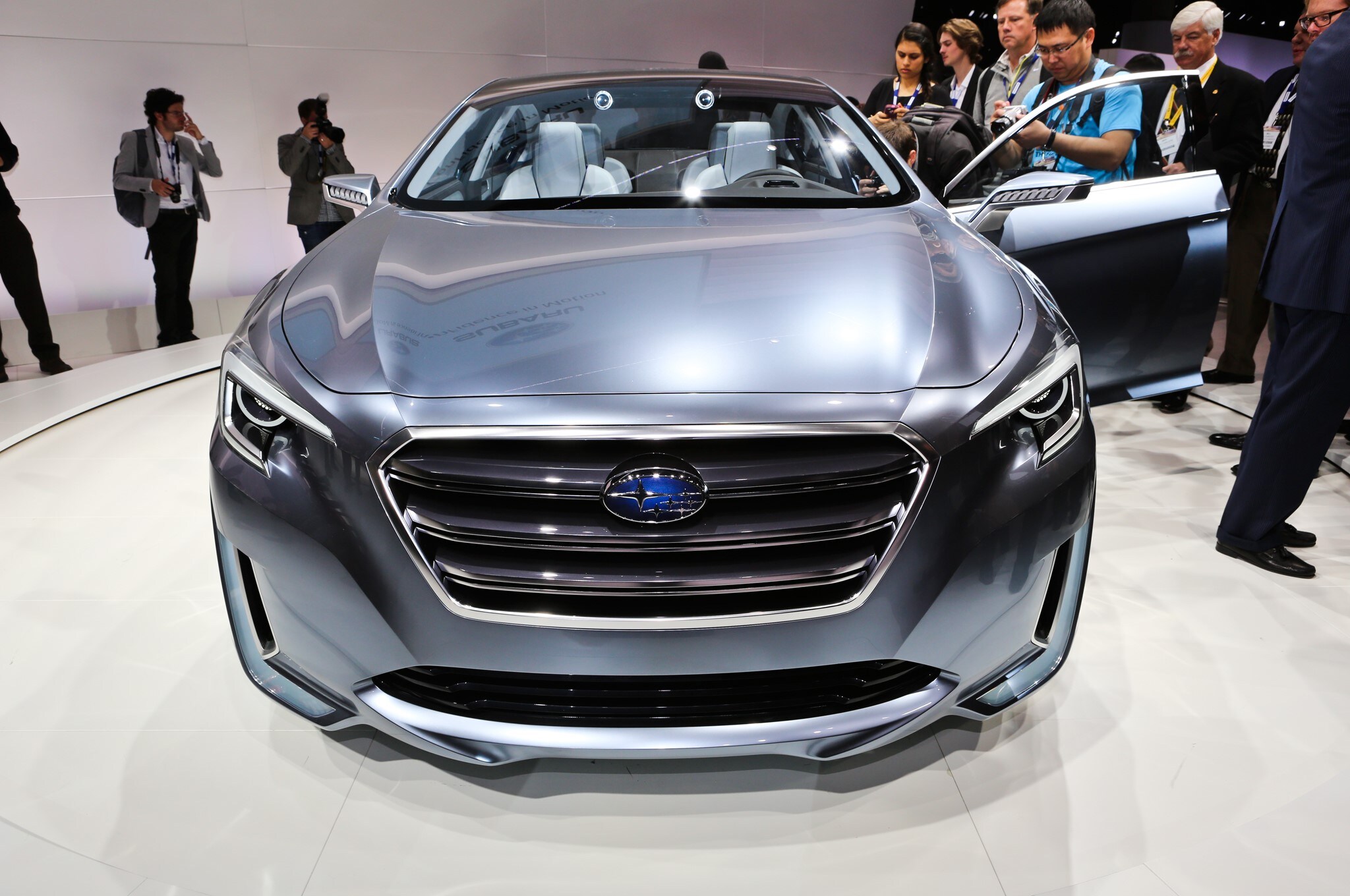 After 2013's stunning success with the redesigned Forester and XV Crosstrek Hybrid releases, it should come as no surprise that Subaru is primed to have another banner year. To ensure their continued success, Subaru has announced that they are going to be redesigning their flagship sedan and wagon, the Legacy and Outback respectively.
This is not just the minor facelift we have seen in recent years, but a full blown redesign.  The Legacy is going to get updated styling and interior refinements that are quickly becoming customary in the mid-sized sedan market. The interior space has also been increased and will now lead its class in passenger space. The chassis (suspension, braking system, re-enforced ring safety cage, etc.) is going to be updated as well providing  a nice smooth quiet ride while still retaining the quick sporty handling the Legacy has become known for over the years. Symmetrical All Wheel Drive will still be standard as will a boxer engine, meaning the new Legacy will be as weather worthy and reliable as ever.  The new Legacy was unveiled recently at the Chicago Auto Show and by all accounts the reveal was a complete success, with Subaru now expecting great things from the Legacy. 
The Outback has yet to be unveiled, but what we do know is that it will be a complete redesign just like the Legacy.  It will have updated and cutting edge styling both inside and out, and will come with a host of interior and safety upgrades.  Subaru has kept any specific details close to the vest, other than that it will still have symmetrical all-wheel drive, and a boxer engine. If recent model updates have shown us anything, both the new Legacy and the new Outback, will take what the previous generation did well and make it exponentially better.  We are excited to see what the future holds for Subaru and to see how our loyal family of owners will take to the new designs!  Both the Legacy and Outback should be in our showroom by mid-summer, we look forward to proudly showing them to you when they get here.
Our Sales Team,
Hayden, Nora, Joe, Mike, and Sandy
---

Hurry in - Rebates Ends March 31st 2014 - Thank you to all of our customers who attended the 11th Annual Marine Open House. We hope you had a fantastic time as well as learned some new techniques from our guest of honor B.A.S.S. classic champion George Cochran. We have some remaining offers which will expire March 31st from: Yamaha extended service warranties, Skeeter new boat rebate promotions, and Ranger new boat promotions. If you have any questions regarding these offers please contact Bryan Liebenthal at Bryan@Reynolds1859.com for more information.

---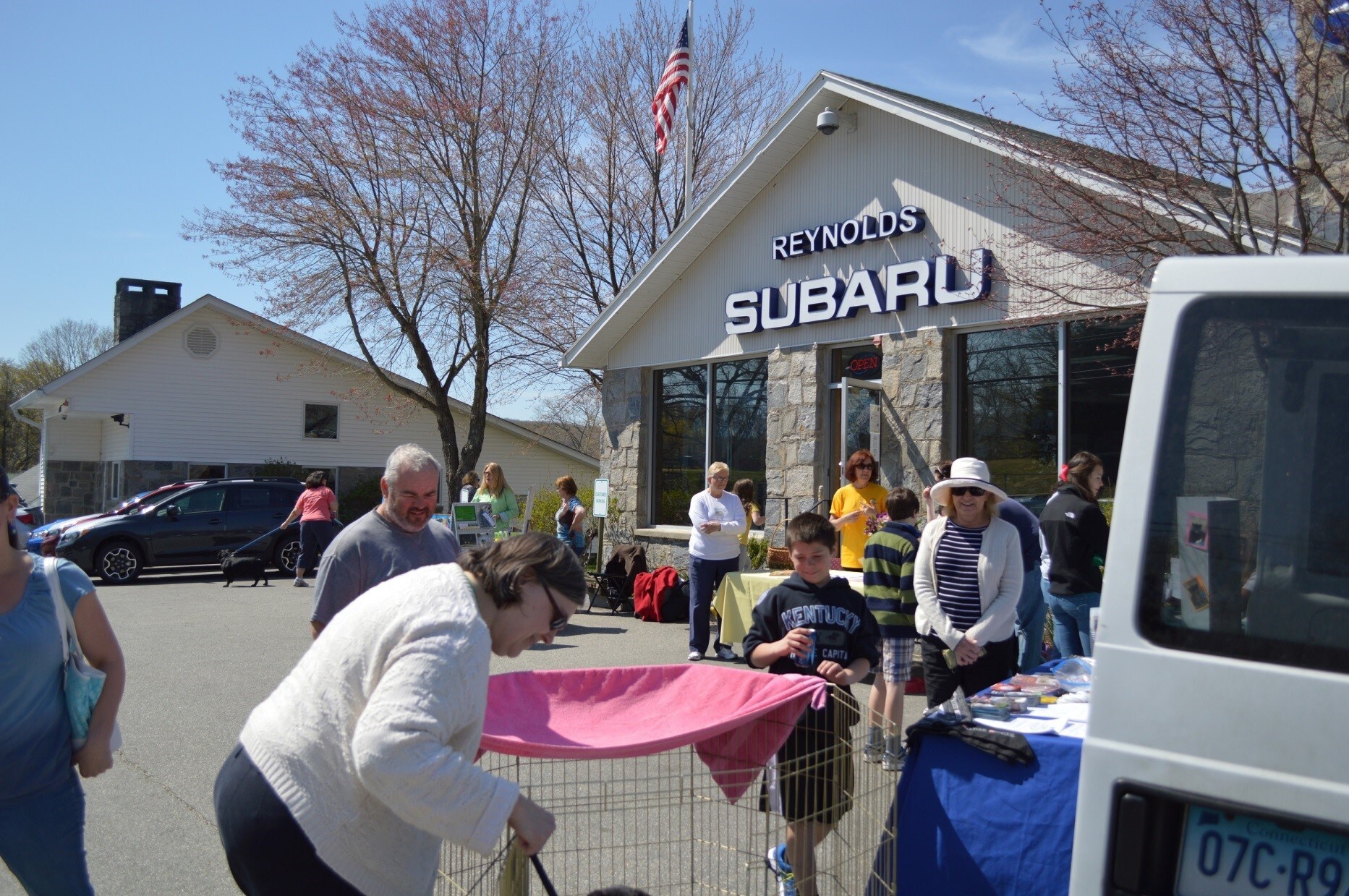 Please join us Saturday, May 3 rain or shine for our fourth annual pet adoption! We are helping foster parents, animal shelters, and animal recues adopt as many animals as possible to their forever home! We are also on a quest to prevent animal euthanasia by creating awareness of the importance of spay and neutering. Animal shelters and rescue groups that attended last year's event include PAWS N.E., Labs4Rescue, Sunshine Golden Retriever Rescue, Dachshund Rescue, Waterford Animal Shelter, and local groomers, pet sitters, dog trainers, and walkers. This year we anticipate all to attend again plus more, and we paired up with ASPCA to help orchestrate a spay and neuter clinic at our event as well as free food, refreshments, and a raffle to win a prize donated from Petco Foundation. Please join us on our mission to help animals in need! We hope to see you there!
Introducing the Barkley Family
Subaru has been a known dog tested, dog-approved car and often customers who own a Subaru also own a pet. The newest commercial offers a funny yet smart way of showing proof to customers that Subaru is not only safe and enjoyable for people but for animals too. The Barkley family consists of four dogs Auggie, Stevie, Sadie, and Sebastian whom portrays a "realistic" dog family. For those who have not yet seen the comedic commercial you can check them out on: Subaru.com/dogs/. Enjoy!
It was a Very Merry Christmas
For our Furry Friends
This past holiday season we sponsored a giving tree for PAWS New England. PAWS needed supplies for their foster parents around the New England area such as leashes, food, beds, crates, collars, and grooming accessories. Many generous customers, employees, and the Reynolds' family brought in supplies. By the time Paws picked up everything they were bewildered by the amount of items people brought for their organization, Nikki told me her car was packed! "Thank you SO much! You truly are Santa Paws for us this year!" is how Ali, our PAWS event coordinator described it to us. Logan, the staff, and Reynolds' family wanted to say thank you to all our customers whom participated, it really meant a lot for the foster animals and foster families.
---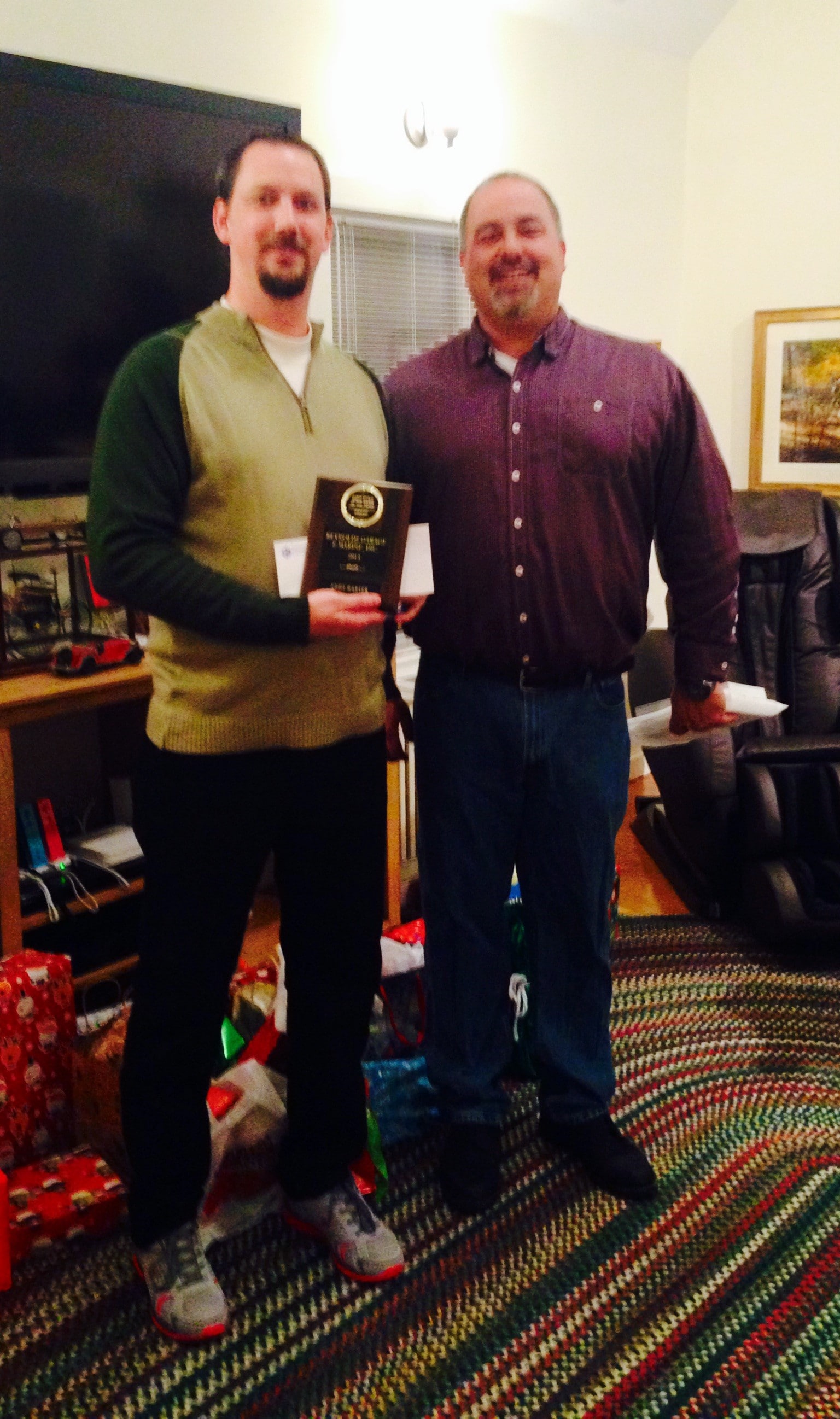 Congratulations to our Marine Service and Parts Manager, Andy Barter for being voted Employee of the Year by his fellow co-workers.
Congratulations to our two Subaru co-workers, our Office Assistant Dana Hatch and our Subaru Service Technician Gerry Hill for being voted Employees of the Year!
Congratulations to Mike Sharrio for placing 1st in our employee Cook-off!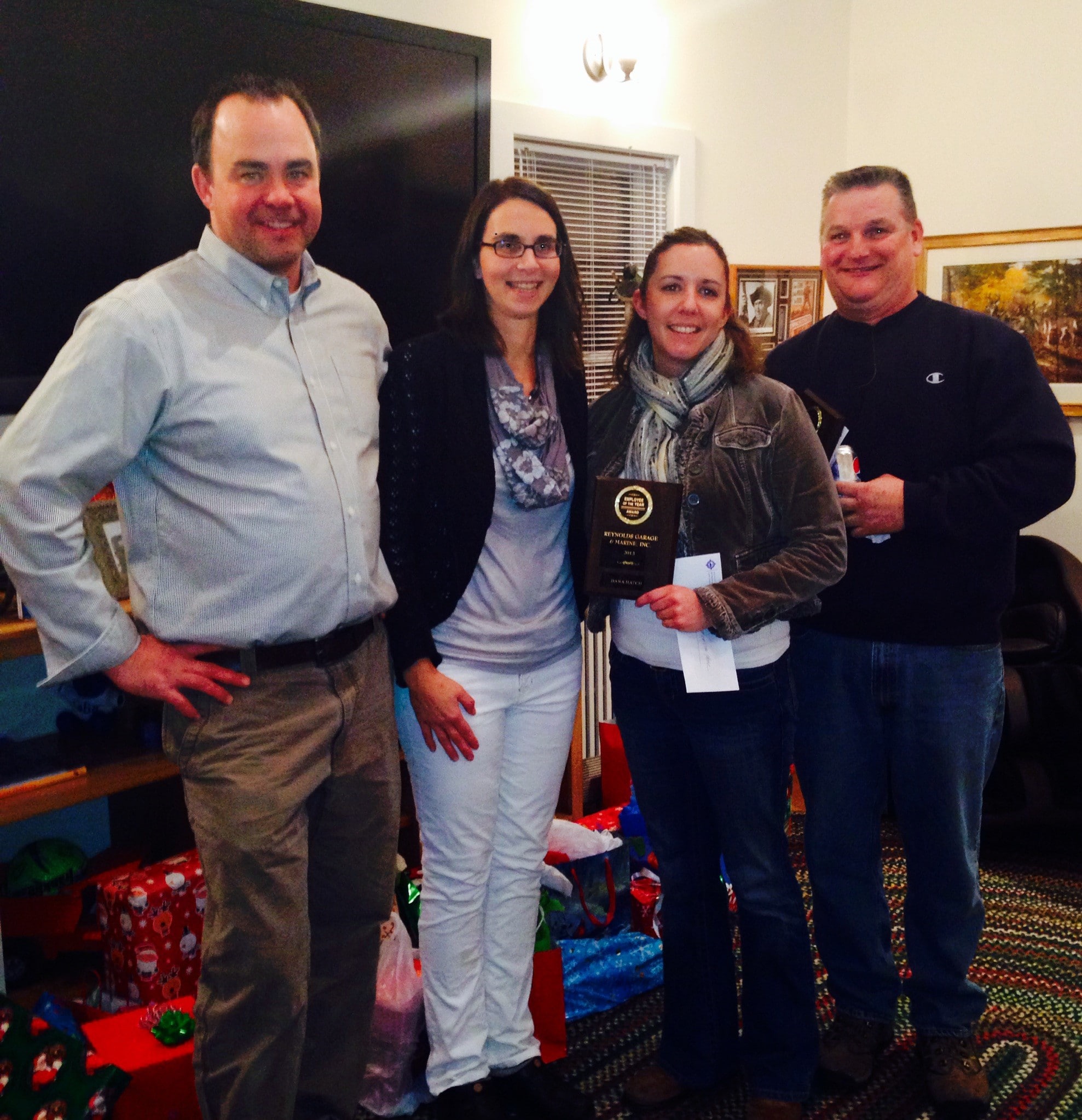 ---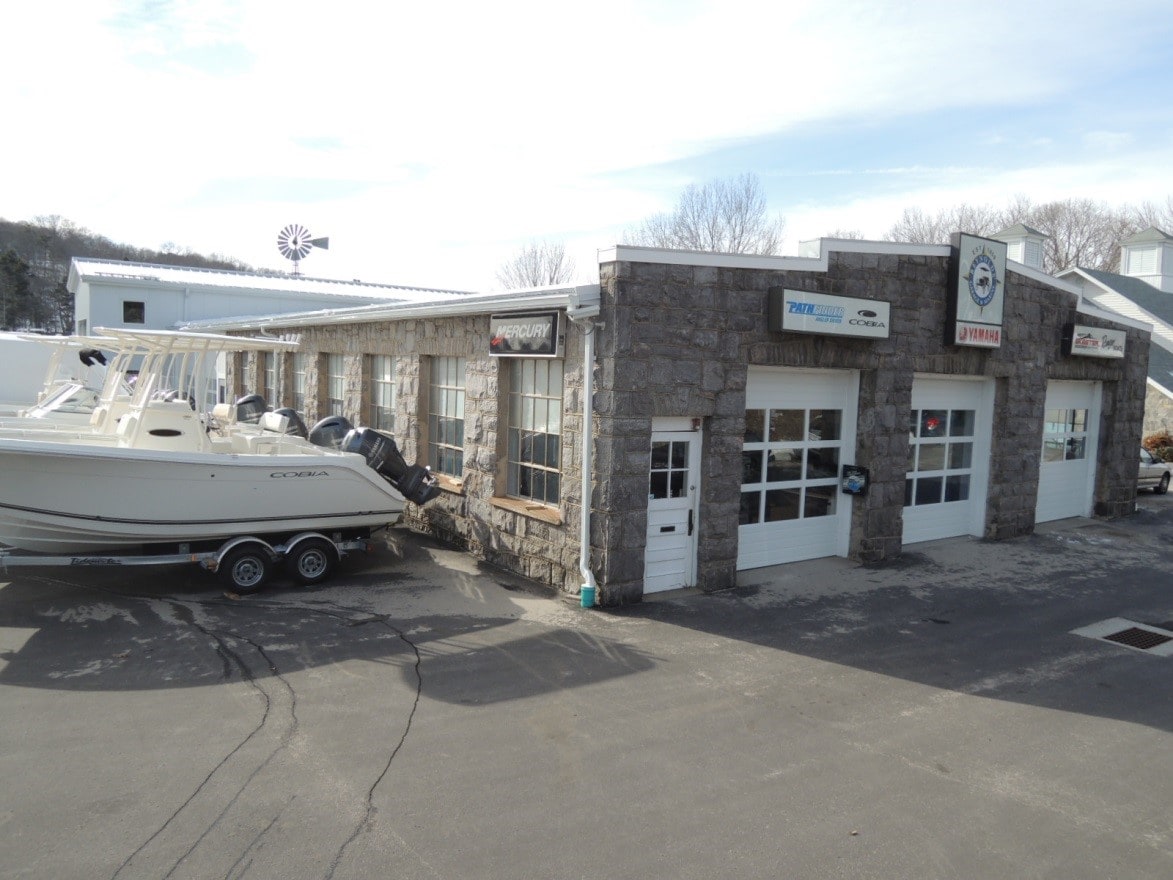 Marine New Addition
In the fall of 2013 we started a major renovation of the marine building to help us accommodate larger boats and higher service volumes. Our existing building received an all new roof, all new windows, overhead doors, and added air conditioning to our showroom and parts department.
We had new lighting installed on motion sensors to help conserve energy. We enlarged our existing repair bay door widths, to allow easier access for trailer boats.  A new large repair bay was added to the rear of the building to accommodate boats to 35' with hard tops.  As part of this addition we were able to gain a large storage room, a mezzanine, and a new waste collection room. The new service bay is equipped with overhead hoists which will allow us to lift boats off trailers for repair when needed. 
As of this writing we are still installing windows and doors but hope to be completed by May 2014.  We appreciate everyone's patience throughout this process. In the long run this will enable us to better serve you.
---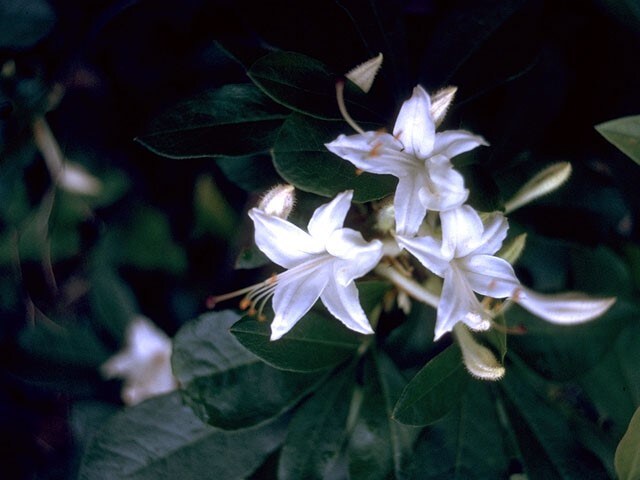 A Fragrant and Native Addition to Any Garden:
Sometimes our favorite plants just fall in our laps after taking a risk on a straggly left over plant we find in need of a home at a fall plant sale. The plant I
purchased was not in great shape, had a slightly leaning habit but it was the last one left and was what I needed for a shady wet part of my garden. The name, swamp azalea drew me in. I like azaleas, certainly not my favorite plant, but a welcome sight in spring and so I gave it a try. To my surprise the next spring the smell was intoxicating. This azalea, Rhododendron Viscosum, is a deciduous shrub that first pushes out its clusters of small leaves, followed by highly fragrant white to blush pink flowers in early June. It is tolerant of wet sites, even flooding and native shrubs always tend to be hardier. One of the best benefits I see is the crazy number of bees that seek it out for its nectar.
Happy Gardening,
Kathryn Wayland
---
Subaru #LoveEveryMile
Every day we get customers returning to Reynolds' Garage and Marine and discussing with our sales associates about how much they love their Subaru! This spring, Subaru of America is hosting an event called Love Every Mile which is a way to show proof to Subaru non-believers how amazing this brand of car is. To participate in this new phenomenon go to the site: Subaru.com/LoveEveryMile.html select submit (if you do not have a twitter account; if you do click the tweet button) fill in your information and press send! If you are interested in just looking, press the mileage ranking to view in descending order how many miles each Subaru owner currently has. Another way to show people it's not just a car; it's a car that loves you as much as you love it!