Check Out the New 2019 Subaru Outback Here in Lyme, CT
For all your New England travels, from your daily commutes, to your family road trips, the new 2019 Subaru Outback is an excellent choice. Blending fuel efficiency with excellent all-weather capabilities, all kinds of safety features and innovative technology, the new 2019 Outback is a perfect all-around vehicle when it comes to shopping here at our Lyme, CT Subaru dealer serving Norwich, New London and Middletown, and we'll help you find the perfect setup of this crossover. Take a look at the feature offerings, safety and performance of the new 2019 Outback, then visit us here in Lyme today to get started.
Performance
While the standard AWD system is what makes the new 2019 Outback a Subaru, a feature that often costs you quite a bit more in other brands' SUVs, it's the performance and engine options that make this the leader of the pack. The base level 2.5-liter four-cylinder is capable enough to the tune of 175 horsepower, while also being very efficient for a crossover of this size. Then there's the optional 3.6-liter six-cylinder that boosts your performance to 256 horsepower, giving you a much more enjoyable driving experience.
Features: Exterior and Interior
Available in six trim levels, the new 2019 Outback can be set up and configured in a way that suits your style and needs. Starting on the outside, roof rails are standard and you'll have a range of headlight options, with automatic headlights in the base level, give a great look to the Outback. You can also add a power moonroof, and larger wheels at higher trims. Inside, you'll have a range of features coming standard or as added options, including Bluetooth, smartphone integration and navigation, among others.
Safety
Safety is key in any vehicle you're taking your family in, and the new 2019 Outback has the typically strong level of airbags and smart engineering to keep you protected in the event of a crash. But in order to avoid those accidents, the available Subaru EyeSight suite provides systems like adaptive cruise control, forward collision warning with automatic emergency braking, lane departure warning, automatic high-beam headlights, blind-spot monitoring and rear cross-traffic alert are available at some of the higher trims.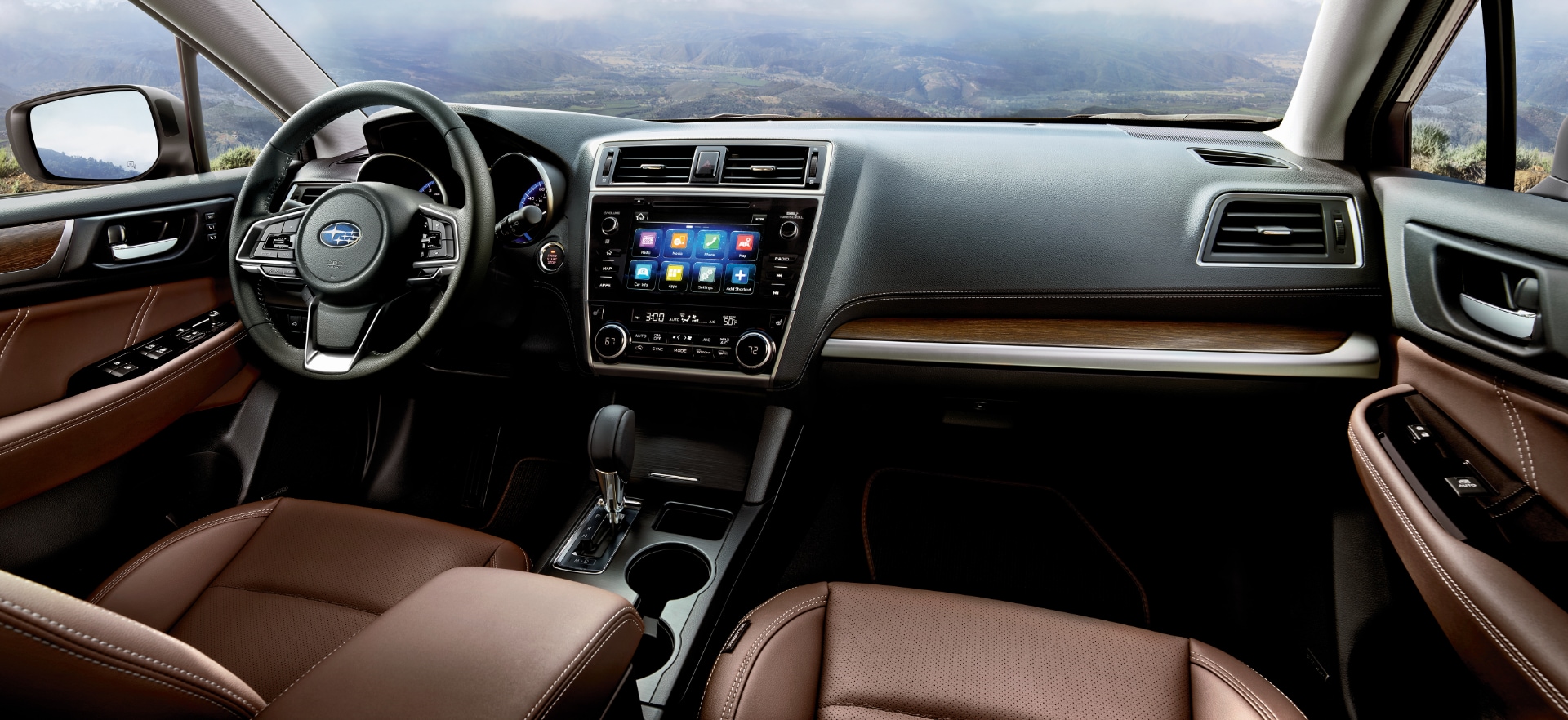 Trim Levels of the Subaru Outback for Navigating the Four Seasons in Lyme, CT
When considering the next season-ready, versatile Subaru Outback model you plan on purchasing here at Reynolds Subaru, features almost certainly become a focal point of the conversation. You recognize the safety capability, symmetrical all-wheel-drive adaptability and high-end efficiency that any Outback model can bring to snowy drives in Lyme, CT, but want to make sure you nail down an exact fit of amenities to cater the trim level you choose for your exact needs.
Here at Reynolds Subaru, we want to help take the pressure off of you and help you see things a little bit more clearly. This is why we've decided to review trim levels of the Subaru Outback, and help you identify the specific features most important to you when it comes to four-season driving in the Norwich, New London and Middletown areas this year.
Subaru Outback Trim Levels
2.5i
Beginning with the base model of the six trim levels, you'll find there are plenty of applicable appliances that will suit you in your daily commuting here in Lyme, CT. The seventeen inch alloy wheels on this vehicle are dynamic and make a statement even when the weather is spotty, with roof rails to travel with winter gear and a rearview camera to parallel park and back out after dinner with the family. The Subaru Starlink interface, Bluetooth for phone and audio, and an audio sound system cover you on the technology side of things.
2.5i Premium
Snowy nights, rainy days and foggy mornings in Middletown or New London really limit visibility, making the foglights on this trim level a real necessity for driving in the northeast. Heated exterior mirrors even keep your outside points of visibility clear, with a windshield wiper de-icer also assisting in this regard. Upgrades to both the touchscreen and sound system in this model also are included.
2.5i Limited
Bigger wheels, safety precautions such as blind-spot monitoring and rear cross-traffic alert, and convenience amenities such as heated front seats and keyless entry and ignition are the signature highlights of this mid-level trim. The 12-speaker Harmon Kardon Sound System for loud and clear music while driving in Norwich also bears mention.
2.5i Touring
Moving up to the upper trim of the standard 2.5-liter SUBARU BOXER engine portion of the trim levels, you will note a completely unique look in the Subaru Outback you grip the roads with this year. Adjustments to the roof rails, leather trim and upholstery, and exterior tone of this vehicle give it distinct character for a multi-purpose SUV.
3.6R Limited
Moving up to a more potent 3.6-liter engine that boasts 256 horsepower and 247 pound-feet of torque, you can remain on schedule with your planned ski trip out of Lyme, CT this winter. You even can shine a brighter path ahead with the addition of xenon headlights!
3.6R Touring
This upper-echelon trim matches the 2.5i Touring amenities with the exception of the engine boost, keeping you conveniently toasty with a heated steering wheel and an upgraded interior layout to take around on soothing drives with you.
Test out all of the features described above by stopping down to our lot here in Lyme, CT to review models for yourselves and go out on a test drive!