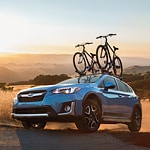 A pragmatic choice, the popular Subaru Crosstrek is a compact crossover vehicle that truly has the willingness to perform. The engineers at Subaru delivered something special with this vehicle that handles any area of land with relative ease. Those of us at Reynolds' Subaru love the all-wheel-drive that comes standard along with plenty of details that prove this vehicle to be ready for off-roading.
The vehicle has spacious cargo for your packs and gear while being built in a way that allows a high clearance off the ground. We know you aren't going to be exploring the hard to reach areas of land all the time. There is no problem there.
The Crosstrek can seamlessly transition from off-roading to a more developed stretch of land. The infotainment system is easy to use (even for the novice) and truly adds an element of comfort. You'll get plenty more as you drive through the Lyme streets. Take a test drive today.